BoatingStore.com represents only a limited selection of items available from Rex Marine. Please call or email us to confirm your discounted price and delivery time of ANY item not found. Overnight Special Orders are a Rex specialty. No shipping costs when items picked up at either Rex store.
Our store in south Norwalk is open the following hours:

Opens 8 am Monday thru Saturday, year 'round.
Store closes at either 530 or 6PM
during boating season.

Opens Sunday 9am during boating season-
Store is closed a few Sundays over
the winter Holidays and early January.

Please call 203.831.5236 to confirm hours, and for store customer service.

Now Open! New Rex Marine Stores and fuel dock at Norwalk Cove Marina. Please come visit us for more of the great selection and service you have come to expect from our Water St. location, or call 203 604 1295.
---
REX MARINE: A GREAT PLACE TO KEEP YOUR BOAT
SUMMER, WINTER, OR YEAR 'ROUND!
Summer Dockage up to 50'
Indoor and Outdoor Summer "Valet Dockage", a/k/a Rack Storage
Fast - Clean - Easy!
Includes Weekend dockage
For powerboats up to 32' LOA
Launch-on-demand, no advance notice required during operating hours
Your boat can be used anytime, day or night.
No need to antifoul your bottom or drive units–save money!
Indoor option is like a garage for your boat, stays new-looking years longer!
SO much easier than trailering! You will use your boat A LOT more this summer.
Indoor and Outdoor Winter Storage up to 50' LOA
Dockage, Land & Rack Storage On-line Application
Storage & Dockage Information and Application PDF 292KB
Valet Rack Storage Service General PDF 22KB HTML Version.

Walking distance to SoNo Attractions
Transient docking Up to 40 Feet
Bathrooms and Showers
Year-round Security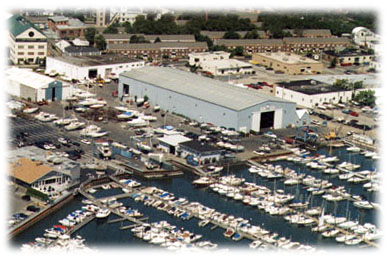 Please email parts availability inquiries and other questions to parts@rexmarine.com. 203-831-5238 is the Parts dept. direct phone number but during peak-season email may be an easier way to get help.

Rex Marine has been a factory authorized parts dealer for Mercruiser sterndrives and inboard engines as well as Mercury outboard motors for over 45 years!
Click here:

http://www.mercurypartsexpress.com/us/RexMarine/index.html

to enter the Mercury Marine factory-direct parts website, which contains parts lookup capability and many other features to get your parts sent directly to you FAST. To pick up your order at Rex Marine, please email or phone us, and to save a lot of time, use the Parts Express parts lookup feature so you can include Mercury/Mercruiser part numbers with your order.

Factory Authorized Parts & Sales: Mercruiser & Mercury Marine, Yanmar diesel, Crusader, Yamaha, Volvo-Penta, and many other manufacturer parts.
HUGE INVENTORY! FRIENDLY STAFF!

Founded in 1936 by Louis J Gardella ( 1905-1995), Rex Marine Center, the Gardella family, and our knowledgeable, dedicated, and friendly crew continue their proud service to the boating community. Stop by and visit or give us a call today. View the way we were then.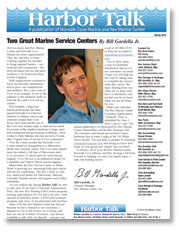 View the Spring 2010 issue of HarborTalk here